Orléans Tooth bonding for strong, beautiful teeth..
Composite bonding is a relatively simple and inexpensive
cosmetic dentistry
procedure used to repair teeth with minor cracks, chips, or discoloration. The material used in tooth bonding is composite resin, which closely resembles tooth enamel and can be tinted to perfectly match the color of the natural tooth. Dental bonding involves first etching the tooth surface with a mild solution to enhance adhesion. Then, the composite resin is applied as needed, and a high-intensity light beam is used to harden and "bond" it to the tooth surface. 
Book an appointment at our family dental clinic to see if dental bonding is right for you!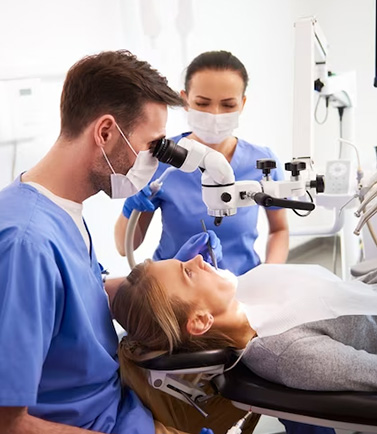 Why Choose Mer Bleue Dental Centre?
Comprehensive dental care
General, cosmetic, & restorative dentistry services
Experienced dentists & dental hygienists
Industry-leading dental tools & technology
A clean, comfortable dental clinic
And more!
Composite Bonding Orléans
About Dental Bonding Orléans
Dental bonding not only improves the appearance of the teeth, but it also strengthens their structural integrity, making it a great cosmetic dental treatment for patients who want a balance of aesthetics and functionality. Composite bonding represents a simple and effective way of repairing minor dental imperfections to make a person's smile look healthier and more radiant. The best part? Dental bonding looks perfectly natural, so no one will know you've had any dental work done!
If you have cracked or chipped teeth, or your teeth are stained yellow and you're not a fan of teeth whitening kits, composite bonding might be the best cosmetic dental treatment for you.