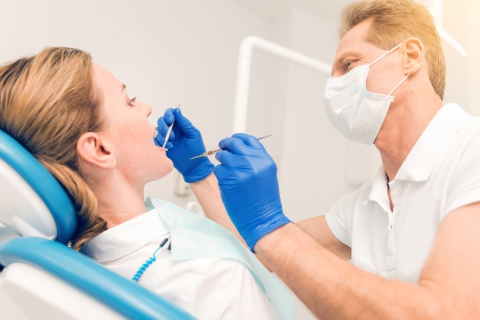 Replace missing teeth with permanent dental implants.
Dental implants were first invented in Sweden around the middle of the last century. Over the years, dental implants have been continuously modified and improved, and today, they have become a very popular and effective tooth replacement solution for both patients and dentists alike. Schedule an appointment at our family dental clinic in Ottawa to see if you are a candidate for the dental implant procedure!
Why Choose Mer Bleue Dental Centre?
Individualized dental care
General, cosmetic, & restorative dental services
Friendly dentists & dental hygienists
State-of-the-art dental technology
A comfortable dental clinic for the whole family
And more!
About The Dental Implant Procedure Orléans
When a person loses one or more of their teeth, tooth replacement becomes a very serious and important issue. In the past, dental bridges and removable complete or partial dentures were the only treatment options available. With the arrival of dental implants, there are now new fixed, permanent, and very effective alternatives, such as implant-supported dental crowns, implant-supported dental bridges and implant-supported dentures. The role or function of all three types of dental treatments is to permanently replace a missing tooth (or teeth) with prosthetic teeth without involving any healthy natural teeth in the process.
ORLÉANS DENTAL IMPLANT PROCEDURE
Dental implant surgery has basically two separate phases: phase one involves dental implant placement, and phase two involves dental implant restoration.
ORLÉANS DENTAL IMPLANT PLACEMENT
Dental implants closely resemble very small titanium screws. Their function is to replace natural dental roots and as such, hold the prosthetic replacement teeth firmly in place. The dental implant procedure itself involves the surgical placement of an implant into the jaw bone in the area where the tooth is missing. The bone will gradually start growing around the implant (in a process called osseointegration), and this will keep the implant firmly embedded in the jaw. Such a healing process takes anywhere from three to six months, and once completed, the implant(s) can be restored with appropriate dental prosthesis, such as an implant-supported crown, bridge, or denture.
ORLÉANS DENTAL IMPLANT RESTORATION
If surgical placement of dental implants is properly executed, the restoration process is relatively quick and simple. First, the protective healing abutment is removed from each implant, then an appropriate restorative prosthesis is simply screwed on (an implant-supported crown, bridge, or denture). With proper oral hygiene and regular professional supervision and maintenance by your family dentist, your implant-supported restorations will look, feel, and function like your natural teeth for a very, very long time.
Contact Orleans Implant Dentist Today!
If you are interested in learning more about dental implants, contact our dentists at Mer Bleue Dental Centre in Orléans. We'd be happy to answer all your questions!