Permanent tooth replacements for patients with missing teeth in Orléans, ON.
Implant-supported dental restorations are a great option for patients who are looking for a permanent solution for their missing teeth. At Mer Bleue Dental Centre in Orléans, our dentists offer implant-supported dental crowns, dental bridges, and fixed (permanent) dentures, and we treat each patient on an individual basis according to their unique needs. If you are interested in learning more about dental implant-supported restorations, book an appointment at our family dental clinic in Orléans! Our dentists would be happy to assess whether you are a good candidate for implant-supported dental restorations.
Why Choose Mer Bleue Dental Centre?
Comprehensive dental care & a range of dental services
General, cosmetic, & restorative dentistry
Friendly, experienced dentists & dental hygienists
State-of-the-art dental technology, tools, & dental practices
A comfortable family dental clinic
And more!
Oral Hygiene Care Orléans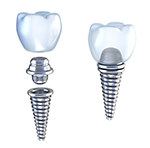 ORLEANS IMPLANT-SUPPORTED DENTAL BRIDGES
Dental patients who are missing a single tooth can easily have it replaced with an implant-supported dental crown (instead of a traditional dental bridge). This procedure involves placing one dental implant in the area where the tooth is missing and later restoring it with a dental crown. The dental crown is made of a strong ceramic material that can be tinted to perfectly match the patient's surrounding teeth, so no one will even know it's fake!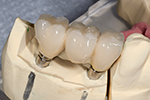 ORLEANS IMPLANT-SUPPORTED DENTAL BRIDGES
For patients with several missing teeth, an implant-supported dental bridge might be the ideal treatment solution. Depending on how many teeth you are missing, two or more dental implants are strategically placed into the empty space. Later, after healing, a prosthetic dental bridge is permanently screwed on. As always, the enamel-like ceramic material of the dental restoration will perfectly match the rest of the patient's natural teeth.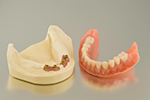 ORLEANS IMPLANT-SUPPORTED DENTURES
Edentulous patients (with all teeth missing) used to have only one treatment option available to replace them: a removable complete denture. Now, thanks to dental implants, a permanent (fixed) fake tooth alternative exists. Depending on the case, four or more dental implants are surgically placed in each of the two arches of the mouth (only one arch can be restored). After healing, a restorative prosthesis is screwed on, giving the patient the look, the feel, and the function that is as close to natural teeth as possible.
Book An Appointment At Our Dental Office In Orléans
Implant-supported dental restorations are a great option for anyone who is missing one or more teeth and is looking for a more permanent solution than full or partial dentures can provide. If you are interested in exploring our tooth replacement options, please don't hesitate to reach out to our dentists at Mer Bleue Dental Centre. We'd be happy to discuss our treatment options and help you determine whether dental implants or implant-supported restorations are best for you. Give us a call today, or make an appointment at our denture clinic in Orléans!